The urban mobility landscape is changing quickly and users, citizens, all of us, have an ever-growing number of mobility services and innovative solutions allowing us to move smart around. In this complex and rapidly evolving scenario, users need to find new points of reference, to be oriented in a panorama with a varied offer of digital mobility services, especially in the large urban areas, though still highly fragmented.
Within this context, MaaS (Mobility as a Service) can become a new concept of user-friendly mobility, something like a personal mobility assistant, able to easily and immediately suggest the best transport solution, fitting their needs in terms of innovative, flexible, fast, suitable and green services.
Now, let's try to better understand what MaaS is, how it works and how it will be able to help us in the future.
Mobility as a Service, generally known as MaaS, is a new concept of mobility that provides the integration of multiple transport services, both public and private, into one single digital mobility service, accessible via smartphone. The service is delivered by an integrated platform with many functionalities and a single payment system, and is able to provide personalised solutions to any specific mobility needs, therefore offering all the freedom of mobility that people want. All in one single app.
MaaS is part of the mobility system and operates as a digital layer of aggregation of different contents, consisting of all the available transport services existing in a given territory: public and commercial, individual and collective, traditional and innovative ones. MaaS platforms have therefore the power to transform completely the current traditional transport experience of the users, towards a flexible, digital and on demand mobility service. This will lead to offer more options to meet user mobility needs: from the fastest to the cheapest, to the most eco-friendly or even to the most expensive, preferable at a certain moment in time.
According to the definition of Mobility as a Service Alliance, the key concept behind MaaS is to put users "at the core of transport services, offering them tailor-made mobility solutions based on individual needs. This means that, for the first time, easy access to the most appropriate transport mode or service will be included in a bundle of flexible travel service options for end users".
The following figure (source: UITP, Ready for MaaS?, May 2019) compares the current situation of huge fragmentation regarding access to digital mobility services to the future of MaaS models enabled by mobility integration platforms.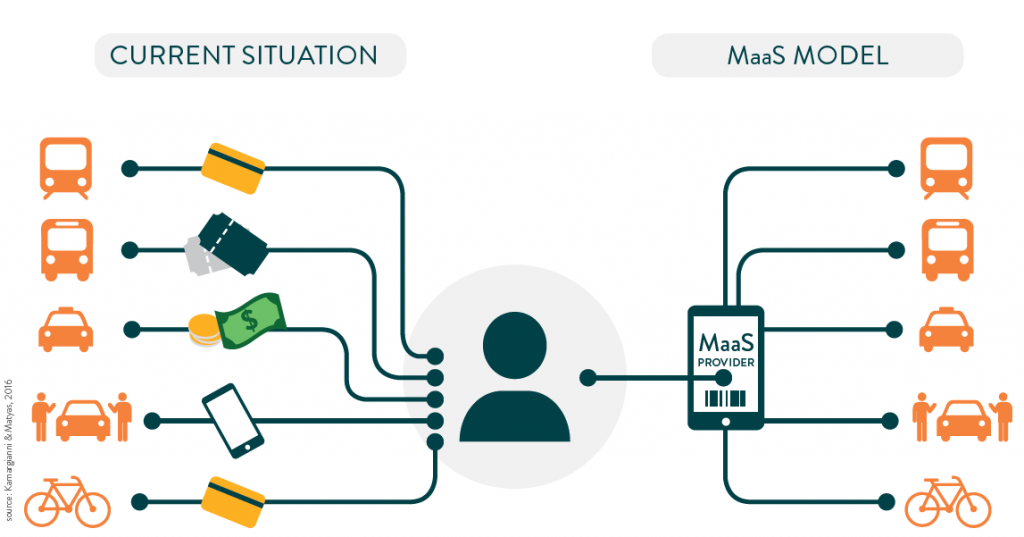 For the users, MaaS represents the possibility to easily access different and integrated transport services (public transport, bus, tram, metro, railway, taxi, car sharing, bike sharing, moto sharing, e-scooter sharing, on demand public transport, ride hailing, ride sharing, long haul bus, park&ride, car rental, etc.), using a single digital channel that suggests the best travel solution, according to the individual needs. MaaS services have to be complete, accurate and always available, and to offer integrated services, such as planning, booking and payment for any travel and any transport modes, during both working and weekend days, in order to meet any mobility needs and to be perceived by the users as an integrated mobility service as valuable as the private car.
For the Public Administration, an effective MaaS service, capable of offering citizens simplified access to mobility solutions to meet all needs, can offer an extremely effective tool to favor a modal shift towards more sustainable modes of transport, reducing the use of individual vehicular mobility and consequently the negative externality connected to car traffic. With a coordinated policy approach between all mobility services and new MaaS services, it is possible to generate benefits for users, for digital economy companies in the transport business and especially for the public sector, thanks to an optimal organization of local mobility systems and improvement of urban planning and urban space allocation.
Once the market will offer citizens full-scale MaaS services, providing simplified access to multiple transport solutions that meet any mobility needs, the Public Administration will have the chance to turn MaaS platforms into powerful tools for promoting citizens' modal shift towards more sustainable modes, reducing the use of individual cars and consequently traffic-related externalities.
MaaS can therefore become an incredible opportunity, allowing mobility governance to reach environmental, social and economic goals like never before!
If you want to learn more about the future of mobility, stay tuned!